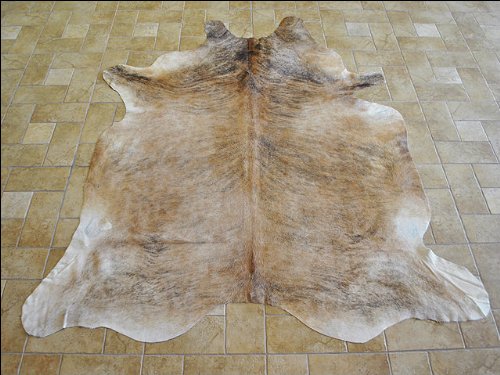 Cowhide is a natural skin of cow that unbleached and it retains its natural color. It is one of the natural products from cattle industry and it can be processed into a variety of products such as rugs, bags, shoes, jackets, belts, etc.
One of its top products is cowhide rugs. In this article, I will show more ten cowhide rugs for you. Some of them are classic while the rest are completely stylish and suit for your living room. Here we go!
How to Choose Cowhide Rug?
Some of you might never have cowhide rug before, so it's a little difficult to know how to choose the right cowhide rug. There are plenty selections of cowhide rugs, but maybe only few cowhide rugs that will match our personal taste. Here are some tips that might be helpful for you to choose your cowhide rugs.
First of all, you need to measure the area where the rug will be laid on. It is important to make sure you buy a right size rug for your room. If your room is narrow one, small or medium rug is good enough.
BUDGET! Just because the rug is lovely, doesn't mean that you have to pay twice for it compared to another rug of the same size. Sometimes, you need to visit several cowhide website to make sure that you get the best price for the rug.
 Think about the color of the rug and your room interior. Do they match each other? Or you just see two different sides in your living room? Of course, you have all the right on how you are going to decorate your room, and maybe with something unique.
Again about color, are you planning to buy naturally colored cowhide or printed cowhide? The color of natural cowhide covers a range colors: brown, beige, tan, white and cream. Some have two or three color combination, such as black and white, brown and white, or white, brown, and black. For the printed cowhides, you can choose solid color (brown, red, salmon pink, lime green, blue, indigo, khaki, etc) or animal print (zebra, tiger, giraffe, etc).
Most of the cowhide rugs have a short sleek coat, but some are longer and curly. I myself prefer short and sleek one. Doesn't matter which one you like as long as you love the rug.
Find a place where you can buy cowhide with good-packaging delivery service. You must make sure that your cowhide comes to your living room in great condition . If you need to, you may make the seller guarantee you about that.
Cowhide Sizing
Here are some sample of cowhide size.
| | | | |
| --- | --- | --- | --- |
| | A | B | C |
| XS (Extra Small) | 0.8 m x 1 m | 0.6 m x 0.7 m | 0.7 m x 0.9 m |
| S (Small) | 1.4 m x 1.7 m | 1.3 m x 1.5 m | 1.7 m x 1.9 m |
| M (Medium) | 1.8 m x 2 m | 1.6 m x 1.7 m | 1.8 m x 2 m |
| L (Large) | 2 m x 2.2 m | 1.7 m x 1.8 m | 2.1 m x 2.2 m |
| XL (Extra Large) | 2.3 m x 2.5 m | 1.9 m x 2 m | 2.3 m x 2.5 m |
Rugs Selection Criterias
After know the rug size and choose your favorite color of cowhide, next you will need to know how to pick a high quality cowhide rugs.
Good balanced and even shape, which all the legs must be intact.
Healthy glossy hairs.
Soft and clean sheen.
Beautiful colors.
Supple texture.
No bald areas or cuts.
No brands marks. Some cowhides receive their brand marks in the processing, so you should that the marks are not noticeable.
No unpleasant tanning odors.
Made in Brazil because Brazilians for generations have the highest reputation for producing the best hides in the world.
And last but not least, you must like it. Don't choose a cowhide rug that looks great in your friend house as each house has its own characteristic that suits its owner personality. Just follow your instinct!
Rectangle or Circle?
Some of us prefer geometric shape rugs so it is easier for us to decorate the furniture. The rectangular rug is great in living room under rectangle table while the circular rugs give personal feel to your room.
A rectangular cowhide rug as known as patchwork cowhide rug is a popular area rug that is often placed in living room or under dining table. The size is usually big because it sometimes used to separate an area from the room. A patchwork rug itself shows creativity by combining different pieces of cowhide.
A round or circular rug commonly placed under coffee table. By placing it among lots of sharp right angles furniture, it can create visual contrast.
Print Cowhides
Print cowhides are quite popular among natural colored cowhides. The most popular one might be zebra-print cowhide rug. It just funky to have one in your house. The black and white stripes pattern on the cowhide is definitely awesome for a living room. Other great print cowhides are tiger and giraffe print.
These animal print rugs bring dramatic scenes of nature to your home without hesitation. You can put them not just on the floor, but also by hanging it into the wall or place it on the table. It will bring a new style to the entire room. Combine it with some cowhide pillow or chair for the totally look.
Rug Pads
After you purchased your beautiful cowhide rug, you should make sure that you won't get slipped in the first day. To extend the life of this cowhide rug (and yours), you will need rug pads.