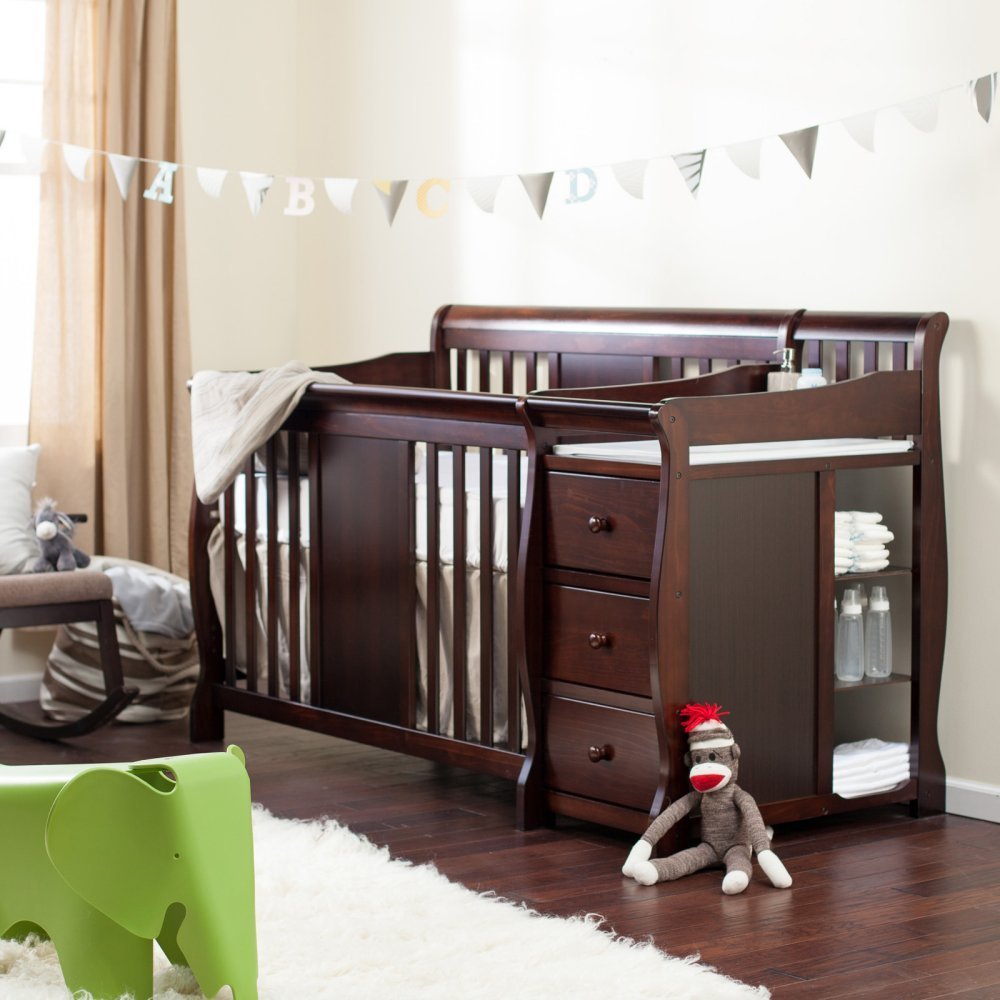 What is you really need to purchase is the main point here. You don't have to buy anything you see in the baby shop. Try to list the primary need of the baby first. Then after you complete the list, you can add other items.
Some parents always wait until their baby born before deciding the bedroom theme. You choose pink for baby girl and blue for baby boy. That's normal. Many people do that. Nothing wrong at all! But, you also can decorate the room before the baby is born. The solution is simple. Choose neutral color for the room. Instead of that blue or pink thing, choose green, orange, or brown for the main color. You still can add some pink or blue or other color decorations to complete the room.
You want to be creative mom/dad? Then try unique theme like forest, pirate, oriental, or beach. You'll surprise how these neutral themes can make you feel like your dream (when you were a kid) comes true.
Okay, let's start make our primary list.
1. Baby Crib/ Baby Bed
The first thing you should consider when you are choosing the bedding is the material. If they are wooden one, choose maple, oak, cherry, mahogany or walnut. They are the best quality wood for baby cribs. Plus, they are strong and warm. If you decide to choose metal, use stainless steel. This material will ensure you that it's strong enough for your big baby boy/girl. But it has a little disadvantage in which this material not brings any warmth to the room.
Many baby cribs now are using both wood and metal materials. For example, they are using wood as slats and metal bar as mattress support. This is a clever choice because you can get the warmth and elegance in the same time.
After material thing, you also need to make sure that the crib fulfills these criteria:
The distance between each slats is not too wide (Max : 2 3/8 inches).
No sharp edges or rough corner.
Smooth surface.
No dents or scratches.
No loose or peeling paint.
Side rails must be fixed (not adjustable).
Firm mattress.
Mattress fits snugly in the crib.
Mattress height is adjustable.
2. Bedding Sheets
You can choose to use a sleeping bag or sheet and blanket. Each of the choice has its pros and cons. It's depends on you as parents. Select the one you think is best for your baby.
a. Sleeping bags
Sleeping bags is the first choice for many parents because it's simple and easy to use. You don't have to worry about the baby kicking it off and got cold for the whole night. However, for older babies, this thing can be annoying because they can't move freely.
If you think sleeping bags is a good choice, then you should remember to consider the seasons too. In summer, choose some low tog (0.5 or 1 tog) while for winter, choose 2 to 2.5 tog. Don't buy any higher because the baby can get sweating and feel too hot.
b. Sheets and Blankets
Combining sheets and blankets is another great choice for parents. You can adjust the layer of sheets or blankets to make sure your baby get the right temperature. If the baby feels too hot, you can just simply take away the blanket. As the weather getting cold, put a blanket on him.
For starter, you might be need four sheets and two or three blankets. Do you really need that much? Yes, you are! The blanket for example, if you wash one of them, you still have another one and extra one if the weather gets very cold outside.
Choose materials that feel soft and comfortable to you. Remember that baby's skin is more sensitive than ours. Pure cotton weaves and flannel are some of the best materials for baby bedding. The materials also need to elastic for the entire edges and durable, so it will last for years.
3. Crib Mattress and Mattress Pads
Some baby cribs come with mattress when you purchase them. But if yours is not, then you should buy one. A good mattress will support baby body and protect baby the whole night. The mattress should fits to the crib and has no more than a finger in between crib and mattress.
Commonly, they use foam mattress and innerspring mattress for baby crib. Foam mattress is less expensive, and lighter. Before buy a foam mattress, try to push the center of the mattress with your hand and see how quickly it regains to its shape. Fast recovery means good quality and you've chosen the right mattress. Innerspring mattress is more expensive but it is more durable than a foam mattress.
I suggest you to always buy a new mattress instead of the used one. You never know how it was being cared or where it was stored. With a new mattress, you can ensure the sanitation. Just make sure you clean it properly and you can use it later for your next child.
Mattress pads were designed to protect a mattress from being soiled with urine and feces. The mattress pads will prevent the growth of bacteria and providing a barrier against soiling. It's also easy to clean up. Those reasons above make purchasing mattress pads is a wise decision.
4. Baby Monitor
Baby monitor/ baby alarm is an audio device used to listen any sounds made by an infant. It is usually placed in baby bedroom or near baby itself, this device consists of transmitter unit with a microphone. Some baby monitors also provide two-ways communication. This will allows parents to talk back to the baby.
They even now improve baby monitor by adding camera feature so parents can see their baby directly via baby monitor. This is great because you can see your sweetheart and make sure he/she is okay.